Following we present questions we got asked in the past. We hope the answers are helpfull. In case you have further questions, please do not hesitate to contact us.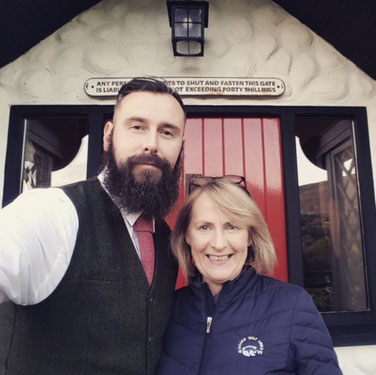 The owners of Railway Cottage, Markus (left on the image) and Frank, are not there in person. But they have a trustee, Gretta (on the right), who will welcome you and will take care of you during your stay. When you arrive, she will hand over the keys and gives you a short introduction. She will also be there the day you leave Railway Cottage.
Gretta lives, as a true local, nearby in Glenbeigh and knows everything of what is going on where and when in the area. She is a true insider and the good soul of Railway Cottage.
---
Ask Gretta! By far the most asked question. In Ireland you can experience four seasons a day. Wearing sandals and woollen jumpers, wellies and tank tops is not a rediculous look, you will need this kind of gear (therefore we provide a selection of wellies in large sizes for you). It is to be recommended always to have a soft shell rain jacket with you. 
We arranged Railway Cottage as homely as possible. We have two fire places to create a cozy cottage atmosphere, but we also offer certain kinds of consumer electronics such as an XBoxOneS, high speed internet or Netflix on TV. Also you will find a large selection of old fashioned games. Please do not feel called upon starting to re-decorate or re-arrange the furniture in the Cottage. We had guests who did that for whatever reason and they left irreparabel marks on floor and walls we all don't want. Sad but true, but after certain experiences we will charge for damages.
What we do personally? We play "It's raining again" from Supertramp, put the kettle on and make us a cup of tea...and have an Irish Whiskey.
---
The latest home improvements made in November 2023:
The complete inside got painted in a warm grey tone and the art collection got newly arranged. Best on top: Railway Cottage does produce its own electricity by nine solar panels that got installed on the roof.
The latest home improvements made in May 2023:
A new state of the art dishwater is installed in the kitchen (Please always use the eco-mode to safe energy and water!). A picturesque stone garden got arranged at the east side of the cottage. And more art was added after K-Fest 2023 in Killorglin.
The latest home improvements made in Dezember 2022:
There is a new tumble dryer that communicates with the washing machine. Only the very best for our guests at Railway Cottage!
The latest home improvements made in June 2022:
Further exemplary painting work inside and outside. We discovered new art from local artists at the K-Fest in Killorglin. A new studio panorama window got set. The station master bedroom now has a super king size bed...and, as always, we worked a lot in the garden and arranged two herb sections.
The latest major home improvements made in October/November 2021:
Exemplary painting work inside and outside. Three new roof windows were installed. The roof was cleaned, the insulation got completely redesigned and a new roof ridge got set. We have a new satellite dish for Irish and international TV. A new fence got installed and also a stone garden line was arranged in front of the cottage. We added more kitchen equipment, like larger mussel pots, pans or baking items. There is new grey toned standard double bed in the second bedroom. Also a new supercomfortable matraz in the master bedroom. And, of course,  complete new sets of towels and bed linens for all rooms.
Beside that: A wonderful carpet is placed in the living room to give an even more cozy atmosphere. More books, cd's, dvd's and games were added in the library section. And, our latest acquisition, two original large locomotive lights from the 1950ies, which could set the living room in daylight by night...last not least and most important: A superfast 1GB fibre connection!
---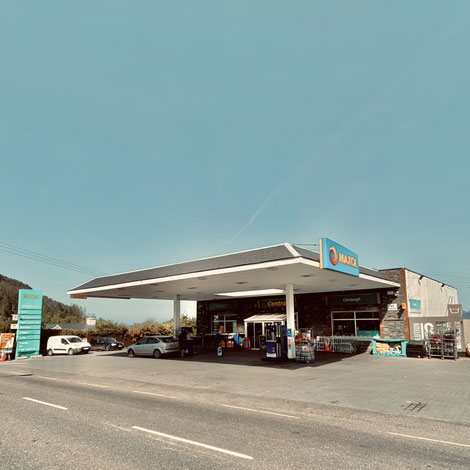 When Sheahan's doesn't have it, you don't need it! You will find everything from rib eye steaks to ice cream, from pain reliever to Whiskey (weekdays available from 10h30, weekends available from 12h30!) at Sheahan's in Glenbeigh.
Sheahan's is a gas station (with the lowest prices in the area), a well sorted grocery store, high quality butchery and the place to get the latest gossip. You will also find the nearest ATM in store, as well as a car wash facility and a laundry outside. Opposite of Sheahan's is the recycling center for glas and cans.
Parking at Sheahan's is definitely a challenge. You want to experience the full creativity of Irish driving culture? This is the place!
---
All of our linen and sheeds are made of highest quality mercerized 100% Makko cotton. The filling of the pillows and the duvet is a synthetic allergy free fibre made of Polyester. We don't have fillings of any kind of feathers or downs in use, neither horse hair canvas on the mattress. On top of the spring core mattresses we placed a natural latex cover and a soft and warming coverlet. Just in case it is colder than expected we provide an additional woollen throw in the master bedroom, and a microfibre blanket in the double bed room as well as in the single bedroom.
---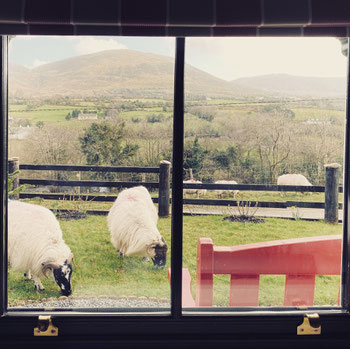 Bringing pets of any kind is not allowed.
Also we will advise to not feed stray animals such as cats and dogs, as well as birds. You can feed the birds like the seagulls...but do not say later, we did not warn you.
It may happen that the sheep of the neighbour find the green gras in the garden irresistible. The animals are extremely nosy, but also very shy and they panic easily. Please give them some time, they will jump over the fence and find their way back to their own pasture by themselves.
In the forrest of Curra Mountain live the so-called "ferel goats", wild living goats. You smell them before you see them. The male goat is very impressive and he looks friendly...but he is not. Again: Do not say later, we did not warn you.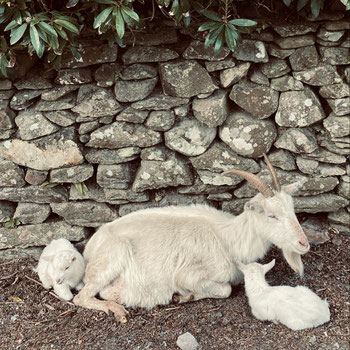 "Awww...how cute!"
No, they are not! Luckily this photo does not transport the strong scent, which is certainly not Chanel Nr. 5. This is mother ferel goat with her two babies, who live in the forrest of Curra Mountain. They are not scared of humans or driving cars at all, but they are not as nice as they look. Mother ferel goat is very protective and quickly changes her state of mind.
---
We had guests in the past complaining that there were spider cobs in certain corners. You select on purpose a cottage in a scenic Irish landscape placed on the foot of an idyllic forrest in the middle of a wonderful nature. Railway Cottage is not in the center of Concrete City. We experienced that you can remove these spider cobs in the morning and they are back in the late afternoon. Having these tiny nonvenomous fellows in the house is a sign of healthy climate in the house and they avoid the real annoying insects. We kindly ask not to see them as dirt or as an uncleaned house.
---
You can celebrate your birthday, as long as it does not turn into a happening. Railway Cottage is concepted for 5 guests and not as a party venue. In case you have a day to celebrate, please contact us, we can arrange reservations at the Carrig House Restaurant at Carragh Lake, or The Towers in Glenbeigh, or Rosspoint at Rossbeigh Beach.
---
Occupency of more than 5 persons in the cottage are not allowed.
---
Because of safety and insurance regulations, any kind of candles are not allowed to use in the cottage.
---
Glenbeigh is the next village, which is about 3 minutes drive down the road and about 15 minutes walk through a fairy tale forrest from Railway Cottage. In Glenbeigh there are certain pubs, like the Towers, Ashes sports bar and Sheahan`s Supermarket with a well sorted butchery and freshly made pizza for take-away. Or sneak into Emilie's for homemade food, bread or a fantastic pizza.
Killorglin is about 12 minutes drive with many great restaurants and grocery stores like Aldi or Supervalue.
Cahersiveen, on the other direction of the Ring of Kerry, is about 20 minutes drive along a very scenic road. We recommend the Oratory, a pizzeria in a church. Also you find certain pubs, restaurants and grocery stores such as a Super Value.
On the map Glenbeigh seems to be a lost place. But exploring the three peninsulas (Dingle, Iveragh and Beara) you have short distances and Glenbeigh is an ideal center to start from. It is 40 min to Killarney, 40 min to Waterville, 50 min to Dingle and 2 and a half hours down to Dursey Island. Driving to Cork is now way quicker with the new bypass around Macroom, it now takes 1h45 instead of 2h15.
---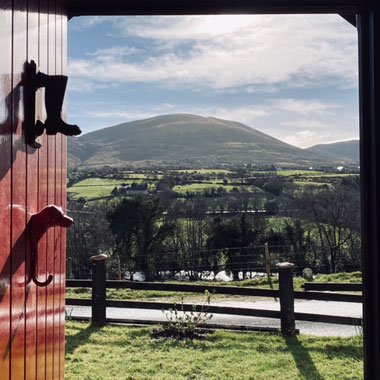 What to say? See this selfspeeking image.
Railway Cottage is set at the foot of Curra Mountain (328m) with a mixed tree forrest in the back. The Kerry Way does lead along the property, which is a scenic walk to Rossbeigh Beach at the other side of Curra Mountain. This partly muddy walk around the hill is about 3 hours and you might need hiking boots or wellies (we provide in larger sizes at the cottage for you).
From the front door you look towards Coolroe Mountain (467m), the Windy Gap in between and then Seefin Mountain (546m) on the left. For hiking enthusiasts this is an amazing walkway through the Windy Gap that goes around the Seefin Mountain. The tour is about 22 km and you need good hiking shoes.
---
Yes, at Sheahan`s in Glenbeigh, inside the local grocery store, is the closest ATM. A number of ATM's are in Killorglin or in Cahersiveen. On every ATM you can draw cash with an international debit or credit card. During drawing process, you will get informed about additional charges and fees.
---
Yes, we do provide high speed internet, via glass fibre, with free Wi-Fi in all rooms and the outdoor bbq area. The router is in the small studio in the first floor. Some telephone provider do not work in the area, but you can use your mobile via internet.
---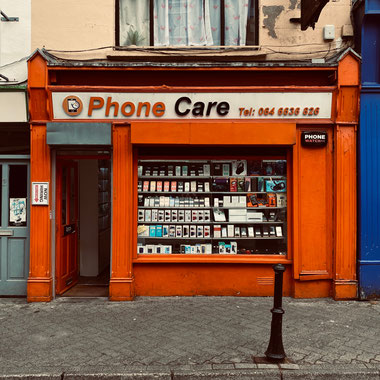 In case you have no charging cable, or need a new cover for your mobile phone or pad, or need an up-date, or you crashed your display?
We can highly recommend Phone Care at 10 New Street in Killorglin. Fast and trustworthy and friendly service guaranteed.
---
No, everything needed you will find in the Cottage. For example, we do provide towels and shower gel, soap, also detergent (which is included in the washing machine) for washing or tabs for the dishwasher.
We advise to bring your own home slippers, slides or clogs. There is a slate floor in the kitchen, wooden floor in every room and a wooden steep staircase. From experience, we do find slippers with a rubber sole best, esp. for the polished and steep staircase.
Read more about coffee, power plugs and towels next.
---
In the kitchen of Railway Cottage we provide a coffee machine with a filter, and also a water kettle and a Bodum coffee pot to brew grounded coffee. We don't have a coffee grinder. You will have a selection of certain coffee blends in the local grocery stores. But, we find coffee very expensive in Ireland and often the flavours are not our taste. It is up to you, but we do bring our own milled coffee from home.
---
We do provide a number of continental power plugs. Just in case, bring your own adapters from your country. And don't forget your charging cables.
---
At Railway Cottage we provide a face towel and a large bath towel for each guest. In case you need an additional towel, please don't hesitate to ask our trustee.
Please do not use the bath or kitchen towels or pillow cases to remove any kind of color such as paint, make-up, hair-colourant or bleacher. We will kindly ask to bring your own make-up remover and devices in case you want to dye your hair or want to post a make-up tutorial. We don't want to spoil the game, but we charge in case towels or bed linen sets are discoloured.
---
No, we want you to relax and enjoy your holidays. In case you like gardening, we will ask you to water the plants if needed.
---
There is a number of souvenirs you can buy from manufacturers and artists you will find in our category "Visit". Just to name some are chocolate from Oileán, the best quality woolen jumpers, caps and shawls made by Kerry Woolen Mills in Beaufort or hand crafted walking sticks (which you are allowed at carry in your overhead compartment on an airplane) from James McCaffreys in Killorglin.
When driving from Glenbeigh to Killorglin, stop at the curve before Bog Village. Not only you have an amazing view, you find interesting souvenirs apart from the typical shops at the stand of Chris, who is the guy providing the metal signs at Railway Cottage. Or have a look at the beautiful cottage and landscape paintings from artist Patrick O'Connor. He is the guy on the right side with the big sun glasses. When talking to these guys, say "Hi from Markus", you might get a discount.
In case you like antiques, you certainly should visit Mary at Upper Bridge Street in Killorglin. She is a treasure! Many of the antiques in the Cottage are from her shop.
When travelling to Dingle, you certainly should see Dingle Crystal, where you get a special discount as guest of Railway Cottage. Check out their website for visiting the studio before.
An unforgettable experience is the tour at Clonakilty Distillery in Clonakilty, Co. Cork. Have a lesson at the Gin School there. Ask for the tour with Ewan!
In case, they all do international shipping. Please ask individually for tax refunds, when travelling back to the US.
---
Yes, that was a serious question from a guest and yes, the Irish seafood chowder does taste like fish. Simple reason: because there is a selection of fish, such as salmon, cod, and bass, in it. A good soup also contains mussels, scallops, prawns and crab meat. You get the best seafood chowder at Towers in Glenbeigh at lunchtime...and yes, the questioning lady did like it very much and asked for the recipe.
---
Very nearby is the Kerry Walk Way, which leads along the property of Railway Cottage. You will experience a wonderful circle hike around Curra Mountain (328m), starting from the Cottage and having a break at Rossbeigh Beach. We recommend to walk up the road first, coming to the beach side of Curra Mountain, you will never forget the 1-Million-Dollar-view of Rossbeigh Beach. This walk will take about 3 hours. Bear in mind to wear hiking shoes or boots, the path has very stony and muddy parts. Also the hike up to Windy Gap and around Seefin Mountain (546m) is an unforgettable experience. It will take about 5 hours for the 22 km. We advice to take the mountain tour, not the road tour to Glenbeigh.
Rossbeigh Beach provides all possibilities for horse-riding, surfing, sea fishing, kiting, stand-up paddling and kayaking.
Curra Mountain is famous for it's paragliding.
On Cromane Beach there is Dooks Golfing. More amazing golf courses are in neighboured Killorglin, Killarney or in Cahersiveen. We suggest to visit their websites upfront for renting gear and the rates.
There is an amazing setting for wild water kayaking on the upper Carragh Lake River. On lower Carragh Lake River there are scenic places for trout and salmon fishing. Don't forget to buy the persmission at Sheahan`s in Glenbeigh first, you might get controlled, rules for fishing are strict.
There are outstanding climbing possibilities at Gap of Dunloe. We trustworthy recommend to contact Nathan, from Outdoors Ireland, for a guided tour.
In 2024 the Green Way is planed to provide a bike trail along the Ring of Kerry. We had access to the plans and are proud that our Curra Road is included in this project. So you can start right from our red door.
---